Have you ever noticed the vague terms "fragrance" or "parfume" on ingredient lists of many common fine fragrances? If you have, it's important to know that these are vague umbrella terms that do not accurately reflect the ingredients used due to a protective loophole around fragrance formulations since they are considered "trade secrets." It is said there are over 400 raw materials and ingredients that fall under this loophole or the umbrella term "fragrance" or "parfume" that do not reflect the real ingredients used in most fragrance formulations.
"In the U.S., fragrances are regulated under the federal Fair Packaging and Labeling Act. But the act does not require companies to list all the individual chemicals in scents. In fact, the formulas for scents can be protected as a "trade secret."
Especially in the USA, there are numerous raw materials and harmful chemicals that convert further into toxic ingredients that can be found throughout most conventional cosmetics. Fragrances and perfumes contain some of the most harmful chemicals. This topic tends to be overlooked by consumers since the visual aspect of the ingredient list doesn't actually list the wide array of what "fragrance" represents due to the signature scent trade secret protection loophole.
The Best Non Toxic Perfumes
I stopped wearing conventional perfumes about 20 years ago when I began my deep dive into toxic ingredients and moved into my clean beauty practices.
Fragrances are toxic on our skin, aggravate the skin barrier, increase skin sensitivities, skin allergies, and also contain chemical vapors that can produce both short term and long-term side effects such as respiratory concerns and allergies. From the raw materials these harmful chemicals are sourced from, to the toxic ingredients they end up as in many popular fragrance brands, the trajectory of creating these formulations is also extremely harmful for the environment due to both the chemical vapors and toxic run off the sourcing and formulation process constitutes.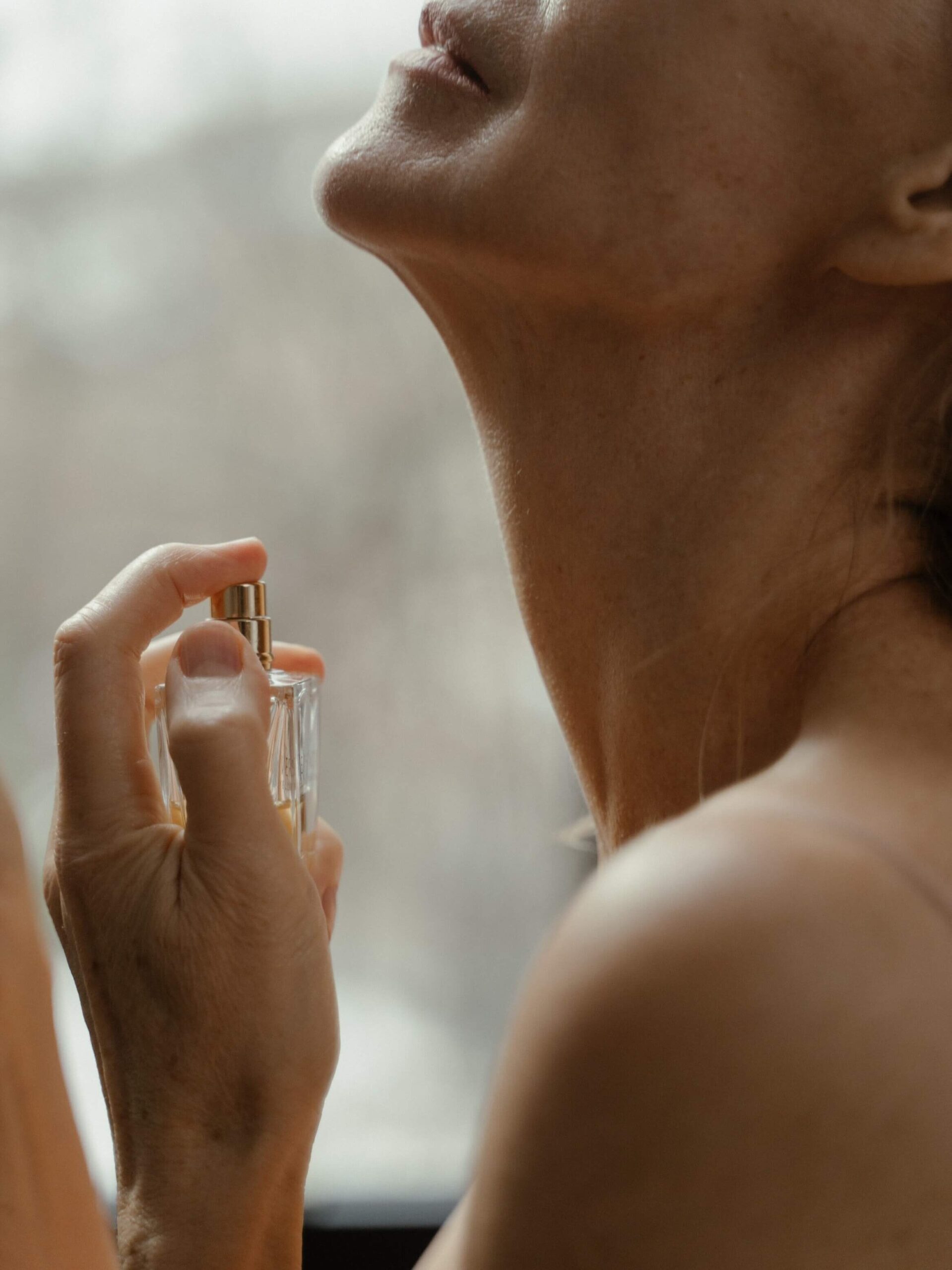 It's also common to apply perfume and fragrance on our neck, chest, and breast areas. These are especially sensitive areas, as there are a vast amount of lymph nodes found here. It's no surprise the amount of health concerns we particularly see stemming from the breast area and health concerns linked to lymphatic congestion. The lymphatic system is the baseline of our ability to detox. Congesting the lymphatic system hinders our innate detox mechanisms and is a precursor to systemic inflammation.
If you have any type of acne, dermatitis, eczema, psoriasis, skin sensitivities, or auto-immune skin conditions, it is highly likely they are further aggravated by fragrances. The chest and neck area is also in close proximity to our respiratory system both topically and through inhalation. All of these combined aspects further aggravate allergies. And ingredients that fall under this loophole are proven to irritate the respiratory tract.
If we are picking up children, these harmful chemicals can transfer from skin to skin.
Also vital to be conscious of what we apply to this area of the body (the entire body for that matter!) if we are breastfeeding or plan to do so in the future.
Accumulation of some of the most common harmful chemicals found throughout many common fragrances have been shown to accumulate in human tissue, breast tissue and breast milk. Many of them have been proven to be endocrine disruptors, asthma triggers, skin allergens, carcinogens and neurotoxins.
Some of the most harmful chemicals protected by the Fair Packaging and Labeling Act loophole include but are not limited to:
Acetaldehyde:
Has been shown to irritate eyes, skin and respiratory tract, damage DNA. And is linked to various cancers and is a probable human carcinogen. Our bodies also make acetaldehyde to process alcohol intake. One of the many reasons alcohol is toxic to our health as well.
Benzophenone:
Used as a fragrance enhancer and UV product protector. Found to be a known carcinogen, mutagen and endocrine disruptor. It is banned as a food additive but still used in cosmetics.
Formaldehyde:
Used as a preservative in fragrances. A proven skin irritant that was the American Contact Dermatitis Society *Contact Allergen* of the Year in 2015. Bravo! Formaldehyde is a known carcinogen with research linked to cancer causing effects. Formaldehyde yields toxic effects through inhalation, ingestion and through skin absorption. (further information on studies here)
Petroleum based chemicals used as stabilizers, solvents and to help scents last longer in fragrances and cosmetics. Phthalates are referred to as "plasticizers" which make plastics more flexible and durable. Phthalates are used beyond the world of cosmetics and heavily around food. Which means we have more exposure to them. Phthalates have had some of the most studies done around them, proving them to be carcinogenic, and endocrine disruptors. In addition, linked to cancer, reproductive concerns, developmental concerns, respiratory problems and even birth defects. Another startling study can be found here.
Synthetic Musks (Tonalide, Galaxolide, Musk Ketone, Musk Xylene):
Used for their fragrant scents, synthetic musks have been linked to endocrine disruption, estrogen altering activity and reproductive concerns. Synthetic musks are only partly biodegradable, causing bioaccumulation in humans and the environment.
Be sure to check out other ingredients to avoid in skincare when shopping for cosmetics and fragrances.
It's not uncommon to find many of these harmful chemicals throughout fragrance based home cleaning products too. For a list of a few non-toxic cleaning brands that include ingredient lists on their products, check out how to detox your home. You can find a comprehensive study on further findings of synthetic fragrances here.
As a consumer, I recommend avoiding conventional fragrance brands. And any fragrance based products that provide ingredient lists with "fragrance" "perfume" "fragrance oil" and other umbrella terms. On the flip side, there are aspects of protecting "trade secrets" that I do understand. Ethical, indie and clean perfume brands may prefer to protect their fragrance base notes, signature scents and "trade secrets" too and understandingly so!
If a brand lists their full ingredient list (some do, some do not) there is a chance of others (especially larger conglomerates with endless funds) copying and attempting to duplicate their formulations. Clean beauty chemists and aromatherapists dedicate a ton of energy, time and money in sourcing raw materials. And creating natural non toxic perfumes and fine fragrances through ethical processes. In these instances, there are clean beauty and ethical companies that may use the term natural fragrance or essential oil blend on their ingredient list to protect their signature scent trade secrets.
If I am familiar with a company and have used them before. So I trust they have natural fragrance or essential oils blend listed in their clean perfumes ingredient list for protection. You will usually find plenty of transparencies on their websites about raw materials, ingredients, and sourcing. And some may even be open to answering further questions about ingredient lists that may not be public facing for trade secret reasons.
Josh Rosebrook happens to be the perfect example of this for me.
I worked with his product line in my treatment room for years, had attended trainings directly with him and used his products enough on myself and on my clients to fully trust his ingredient lists, sourcing of raw materials and formulation process for all of his clean beauty products. When he launched his botanical fragrance Enfleuria with essential oil blends, extracts and absolutes in his ingredient list, I fully trusted it was an authentic non-toxic perfume. And he was indeed protecting his signature scents. On a side note, he has some of the most decadent aroma based clean beauty products I have ever experienced!
It's when "trade secret" loopholes are put in place to protect profit over people's health. Which is the instance of most large, publicly traded "health and beauty" corporate establishments, that it becomes a hard no from me.
Thankfully you can now find some seriously stellar natural non toxic perfume brands that specialize in offering a wide range of the best clean perfumes, perfume oils and non-toxic fragrance oils. Such as Heretic Parfum, Henry Rose, Ellis Brooklyn and Maison Louis Marie to name a few.
If you haven't already, it is seriously time to ditch the toxic ingredients found in conventional fragrances. I've rounded up my favorite clean perfume brands, best sellers and the unique formulation blends and base notes many natural non toxic perfume brands have been created from. Enjoy this round up and let me know what you think in the comments!
---
Best Non-Toxic Perfumes
"We didn't just stop with ingredients or our high standards. We sought to enact the industry's most rigorous and comprehensive health, safety, and sustainability verifications. If a standard didn't exist, we worked with certified groups to create it. As a result, every Henry Rose fragrance is EWG Verified, ™ an influential mark representing health, transparency, and proper manufacturing practices, and Cradle to Cradle Certified,™ a global marker for meticulous product sustainability."
An amber and woody signature scent with tonka bean, absolute and ivory coast ginger blend. With hints of orange flower to create a smoky, enticing cocktail of a fragrance. Top notes include South American tonka bean, ivory coast ginger with middle notes of patchouli, orange flower and a grounding base note of Haitian vetiver. Offered in full size 1.7 oz at $120 & discovery travel size from $35
With grounding scents of earthy and warm vetivers. And musks with soft notes of jasmine and tuberose, it's no surprise this is a best seller! This signature scent includes base notes and key ingredients of vetiver oil, amber, jasmine and orange flower. Offered in full size 1.7 oz at $120 & discovery travel size from $35
Another best seller from Henry Rose, Jakes House fuses grounding musky notes with middle notes of neroli and peony for a watery clean musky finish. Base notes & key ingredients include musk, neroli, jasmine and peony. Offered in full size 1.7 oz at $120 & discovery travel size from $35
---
"Maison Louis Marie was founded on the principles of composing clean luxury fragrances while doing good for our planet. We have a strict adherence to providing environmentally-mindful products that do not contain toxic ingredients (whether they're harvested or manufactured) that may pollute the earth or harm one's body."
Intrigued by Maison Louis Marie's selection of perfume oils, No.12 Bousval Perfume Oil includes grounding base notes of amber and myrhh, mid notes of heliotrope flower, white ginger, petitgrain and top notes of bergamot, cardamom and valencia orange. Available in Eau de Parfum starting at $93 and Perfume Oil at $65
Peek around online and you'll quickly notice that No.04 Bois de Balincourt Perfume Oil is a Maison Marie Louis best seller! A romantic scent with key base notes of sandalwood, vetiver and amber wood in a base of safflower and sunflower oil. Yes please! Available in Eau de Parfum starting at $93 and Perfume Oil at $65.
---
"Heretic: Someone who does not conform to the established ideals or opinions of the masses. We believe that nature is incredibly sensual. So we work with these raw ingredients to create dynamic fragrances that explore the unpolished version of these plants and flowers—from dirt to stem to petals, with all their organic imperfections and earthly beauty intact, resulting in a vastly different experience than what people are used to when wearing traditional synthetic perfumes."
Dirty Hinoki Eau De Parfum is a gender-neutral Heretic Parfum Best Seller and made for everyone. Grounding Hinoki wood blends with crushed herbs create an earthy and ethereal plant-based scent that is a Japanese rainforest in a bottle. This signature scent includes base notes of grounding wood blends, balsam and frankincense. Fused with middle notes of hinoki and cypress and top notes of lemon, cedar, nutmeg, thyme, pine. Natural ingredients plus safe synthetics. Available in 15 and 50 ML starting at $65.

Dirty Peach Eau De Parfum is Heretic Parfums newest fragrance and it sounds absolutely decadent. A signature scent that exudes sun-warmed peach skin. And the sensual, softness of creamy white jasmine with bright and effervescent citrus notes that open to juicy, peach flesh. Base notes & key ingredients include ylang ylang, bitter orange, peach isolate, mandarin and also grapefruit. Prices ranging from $125 – $165 for Eau De Parfum
Tingling sensations of pink pepper and bergamot woven with bitter orange leaves and sweet coriander create this non-toxic, soft natural fragrance with a spark of pleasure. Tuberose milk, orange blossom, and exotic grandiflorum jasmine form the full heart chord laced with delicate ylang-ylang while ambrette seed creates a musk that lingers on the skin with rich and grounding undertones.
---
"Our mission is to harness the power of commerce for social good. Sana Jardin is a socially conscious, luxury fragrance house. Our vision is to use clean and sustainable perfume as a vehicle for social impact and the economic empowerment of women. Sana Jardin is built on the principles of a circular economy – our alternative business model enables the women in our supply chain to become micro-entrepreneurs by up-cycling the waste products from perfume production."
A Vogue 2023 Beauty Award Winner! Venus of Verbena is a light, clean and energizing signature scent. A leafy green citrus blend with top and middle notes such as neroli, orange blossom and verbena. Fused with base notes of musk, heliotrope and vetiver. Sana Jardin is Vegan and Cruelty Free. 10ml roller sizes begin at $30 and then full size 50ml Eau De Parfum $145
A neutral, calming, woody, and earthy fragrance that is cleansing and healing. While it creates a cloud of connection between the physical and spiritual world. As a way of connecting to the divine and cleansing the spirit, East Indian sandalwood is often burned in and near holy temples. Base notes of sandalwood, vanilla and guaiacwood. Combined with middle notes of cedarwood and top notes of bergamot, neroli and orange flower create this warm and earthy signature scent.
---
"We're by/rosie jane, a CLEAN / COOL / EVERYDAY beauty and fragrance brand dedicated to feeling good, smelling good and doing good. When you choose b/rj you're saying YES to: + clean, safe formulas—we say NO to over 4000 yucky ingredients + FSC packaging—no virgin forests + NO single-use plastics, EVER + 100% ingredient transparency—yep, you can see everything in our fragrances + US made—Los Angeles to be exact + GRL PWR—mama founded and owned."
You'll find nothing but stellar reviews for Leila Lou Eau de Parfum. In fact, this signature scent has been on the market for 15 years. And is also a staple in the world of clean perfume. Leila Lou is a fusion of base notes & key ingredients of pear, jasmine and fresh cut grass. Yes please! You'll also find a wide range of products in their Leila Lou signature scent. From perfume oil, travel spray and more ranging from $28 to $75 for full size Eau de Parfum.

A light and sun kissed signature scent with fresh, floral notes of jasmine, vanilla and coconut that capture summer in a bottle. $75 for full size Eau de Parfum. By Rose Jane is Vegan and Cruelty Free and also Made in Los Angeles.